Employers have a general duty under Section 2 of the Health and Safety at Work etc. Act 1974 to ensure, so far as is reasonably practicable, the health, safety and welfare of their employees at work. In addition, Section 4 of the Act imposes a duty on employers to people who are not their employees but who use their premises.

The Workplace (Health, Safety and Welfare) Regulations expand on the duties of employers under the Act and cover a wide range of basic health, safety and welfare issues. The Regulations are intended to protect the health and safety of everyone in the workplace and to ensure that adequate welfare facilities are provided for people at work.
Several of the Regulations require things to be suitable, and Regulation 2 (3) makes it clear that things should be suitable for everyone. This includes people with disabilities and, where necessary, parts of the workplace, including in particular doors, passageways, stairs, showers, washbasins, lavatories and workstations, should be made accessible for disabled people.
Under the Regulations a workplace means any premises or part of premises which are not domestic premises and which are made available to any person as a place of work. The Regulations apply to a wide range of workplaces, not just the traditional offices, shops and factories, but also, for example, schools, theatres, leisure centres and care homes. The term workplace also includes the common parts of shared buildings, private roads on industrial sites and business parks, and temporary work sites (but not construction sites). There are certain exceptions to the Regulations, for example, construction sites, which have their own specific legislation.
Premises means any place, including an outdoor place.
Domestic premises means a private dwelling. The Regulatio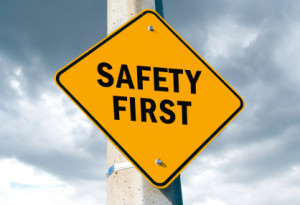 ns do not apply to domestic premises, and exclude homeworkers. However, they do apply to hotels, nursing homes and to parts of workplaces where 'domestic' staff are employed, such as the kitchens of hostels.
Health issues covered by the Regulations are: ventilation; temperature; lighting; cleanliness and waste materials; room dimensions and space; and workstations and seating.
Safety issues are: maintenance of workplaces, equipment, devices and systems; floors and traffic routes; falls, including falls into dangerous substances and falling objects; transparent or translucent doors, gates or walls and windows; windows, skylights and ventilators; safe cleaning of windows etc.; traffic routes; doors and gates; and escalators and moving walkways.
Welfare issues are: sanitary conveniences and washing facilities; drinking water; accommodation for clothing and facilities for changing; and facilities for rest and to eat meals.
Advice on workplace health, safety and welfare can be obtained from the Health and Safety Team, Tŷ Elai, Williamstown, CF40 1NY, telephone number 01443 425546.