General
Electricity is a familiar and necessary part of everyday life, but electricity can kill or injure people and cause damage to property.
Each year about 20 people die from electrical accidents at work, most of which are preventable.
Electric shock is not the only hazard.  Where electrical arcing occurs, perhaps as a result of an accidental short circuit, the heat generated can be intense and, even if it persists for only a very short time, can cause deep-seated and slow-healing burns.  Engineers and craftsmen often fail to appreciate the very real risk of injury that can arise from arcing and, as a result, there are several hundred serious burn accidents each year arising from unsafe working practices.  The intense ultraviolet radiation from an electric arc can also cause damage to the eyes.
Arcing, overheating and, in some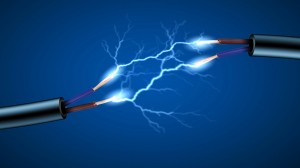 cases, electrical leakage currents can cause fire or explosion by igniting flammable materials.  This can cause death, injury and considerable financial loss.
The Electricity at Work Regulations  impose duties on employers, the self-employed and employees in respect of electrical systems and equipment, and in respect of work activities on or near electrical equipment.  
The Council recognises its duties as an employer under the Regulations and acknowledges that work on or near electrical equipment can be hazardous.  It will therefore take all reasonable steps to secure the health and safety of employees who use, operate or maintain electrical equipment and reduce the risks associated with such work as far as is reasonably practicable.
General arrangements in place for securing the heath and safety of employees include: ensuring that electrical installations and equipment comply with the current Institute of Electrical Engineers Wiring Regulations; maintaining fixed installations in a safe condition by carrying out routine safety testing; inspecting and testing portable equipment as necessary; promoting and implementing safe systems of work for maintenance, inspection and testing; ensuring that anyone carrying out electrical work is competent to do so; exchanging safety information with contractors so that they are fully aware of and prepared to comply with the Council's health and safety arrangements; and providing appropriate personal protective equipment when necessary and maintaining it in good condition.
Advice on electricity at work can be obtained from the Health and Safety Team, Tŷ Elai, Williamstown, CF40 1NY, telephone number 01443 425546.